DVD New Edition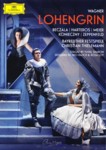 In July 2019 Deutsche Grammophon has released a new DVD. The live recording of Richard Wagners 'Lohengrin' was taken in July 2018 at the Bayreuther Festspiele with the Orchestra of the Bayreuther Festpiele. Conductor: Christian Thielemann.

Ortrud: Waltraud Meier

The DVD (ASIN: B07RMGBGLB) will be available at better outlets.